Prayer
Prayer
Prayer is an essential and fundamental part of the life of Christ Church. We feel called to pray for the world, our nation, our local community, our Church, and the mission of the wider church. Every day a number of people use the Prayer Room, so that over the week every aspect of the life of Christ Church is covered in prayer.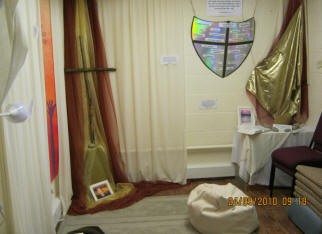 Prayer Room
There is an opportunity to pray in the Prayer Room at 10.00 a.m. every Sunday before the Morning Worship service
We hold prayer meetings in the downstairs room of the Church Centre every Tuesday evening from 7.30 - 8.30 p.m.
There are also joint Parish prayer meetings held during the year in one of the three churches, focussing on needs across the Parish
"If my people who are called by my name will humble themselves and pray and seek my face and turn from their wicked ways, I will hear from heaven and will forgive their sins and heal their land. I will listen to every prayer made in this place, for I have chosen this Temple and set it apart to be my home forever. My eyes and my heart will always be here" (2 Chronicles 7:14-15)